So, last night the Critics Choice Award aired on VH1 and let's just say....
It really wasn't good. Let's start off with the hosts....
The Losers: Rob & Paul
Poor Rob Huebel and Paul Scheer. I don't know if they wrote their own jokes (I'm assuming since they are both comedians) but they were WAY out of their
leauges
. Their performance may have worked at a Teen Choice Awards or the People's Choice Awards but when you are hosting a show with the likes of Pitt, DiCaprio, Streep, and Scorsese, you have to class it up a bit. It just wasn't funny, and everyone seemed bored out of their minds. I did feel bad at the end though when they even
acknolwedged
the criticism they were getting via Twitter (even I took a few swings, myself.) Guys, you seem like nice people, but you were way over your heads.
The Band:
I may be in the
minority but
I liked Fitz and The Tantrums at the CCAM. It brought a little pop to the black tie affair. They were cool, the music was good and I thought added levity to the occasion (levity that Hubel, Scheer, and the jokes failed to provide)
Best Dressed Female: Elizabeth Olsen
Granted there
were far more glamourous dresses at the ceremony, but the color looks amazing on her. They make her eyes pop and look at that amazing hair! Yes, I'm girl crushing, I can't help
it.My
favorite Olsen, nailed it!
Best Dressed Male: Christopher Plummer
The pink shirt. The cheeky speech. The British Swag. Plummer FTW.
Best Moment: Viola Davis's Speech
Usually I don't cry at emotional speeches. I might do
a
"Oh, that was sweet," but rarely do I actually tear up. Last night, I felt myself well up
at
Viola's very sincere and honest speech. There was not a dry eye in the theatre. She was beautiful, elegant, poised, and magnificent. Granted, I would like it if Streep won the Oscar for The Iron Lady, but I love Davis and I know she will most likely win. I am okay with this.
Least Favorite Moment: Mindy's shout out to Michael Faasbender.
.
where is Michael?
This Least Favorite is
desognated
for me in particular because an award show without Fassbender is a sad one indeed. Mindy's thing was cute and funny, but it just showed me that Michael was M.I.A and I will have to wait till Sunday to see him. *Le Sigh*
Most "I'm So Over This": Brad
Ptt
/ Leo DiCaprio
I'm sure they had a lovely time, but they looked so bored (and who can blame them really?) Brad looked good with his "Legends of the Falls" hair, but he probably wanted to get the hell out of there (the dude, has a cane. I would be cranky, too) Then there is Leo who looked like he rather be anywhere else and his only reason for staying was his undying allegiance to Scorsese.
Most Smug: The Cloon:
Well, it's Clooney. He's got the statuesque Keibler on his arm. He won the Best Actor award. Everyone loves him. What can you, say the guys got swag.
Alright, see you on Sunday!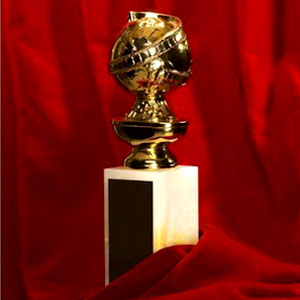 And here is the pic of Pitt and Clooney because I like their Bromance.